Users and Client Accounts
Users are the new way to log in and share access to accounts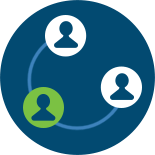 In WHMCS 8.0, we've introduced a new concept for end user login management. Account holders gain more control, while Users with access to multiple accounts gain flexibility and convenience.
Replacing sub-accounts, in WHMCS 8.0, Users represent any individual with access to log in to the WHMCS client area. Users can be invited and managed via a new dedicated User Management interface, with permission based controls and a simple email-based invite workflow.
As a user who needs to access and manage services within multiple different client accounts, WHMCS 8.0 makes it easy and convenient to access and manage services for multiple client accounts with a single login.